Reading Time:
4
minutes
Know what is agile marketing and what are the benefits of using an agile approach in marketing. Learn how agile marketing can be used to improve marketing campaigns.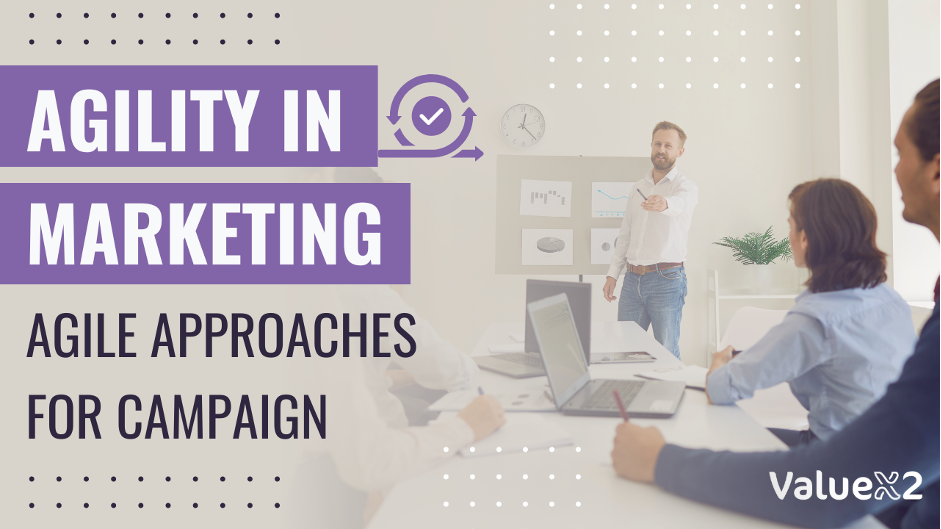 These days businesses must swiftly react to shifts in the marketplace environment and magnify their offerings to meet the expectations of their clients. A marketing methodology that does this is called agility.
Agile marketing is based on agile principles and values of iterative development and continuous improvement. So, this means that marketing campaigns are developed at each sprint of the projects where customer feedback is obtained firsthand. This enables the team to make iterative adjustments as they go on with the project. All this allows organizations to test ideas quickly and identify what is working and what is not.
This article focuses on agile marketing, its benefits, and approaches for campaigns. So, let's learn about them in detail.
Benefits of Using an Agile Approach in Marketing
Let's go through the benefits of agile marketing mentioned below:
Businesses become more responsive to change – In an ever-changing marketplace, businesses need to be more adaptable to keep up with the upcoming trends that are most familiar to the customers. Agile marketing equips businesses with the ability to do this, it breaks down large projects into smaller manageable chunks of tasks. Each small unit of a project is called a sprint.
Helps businesses to be more data-driven – This is by testing different ideas and approaches, businesses can collect data and simply analyze what is working and what is not. Further, this data can be used to improve future marketing campaigns.
Businesses become more collaborative – Agile businesses can get input from different departments and stakeholders, this is by working in cross-functional teams. This makes sure that the marketing campaigns are all on the same page as the business goals that may have been focused on.
Agile Marketing
You may probably be looking for the appropriate agile marketing methodology that will best suit your business. Some of the most-rated agile methodologies are Scrum, Kanban and Lean Startup. These methodologies have different capabilities, and the strengths and weaknesses are different so, you should choose the methodology that will fit your needs.
Let us take a dive more into agile marketing now.
Are you looking to improve your marketing agility? You may construct marketing campaigns that are more collaborative, data-driven, and change-responsive by adhering to the concepts of iterative development and continuous improvement.
How to incorporate Agile Marketing!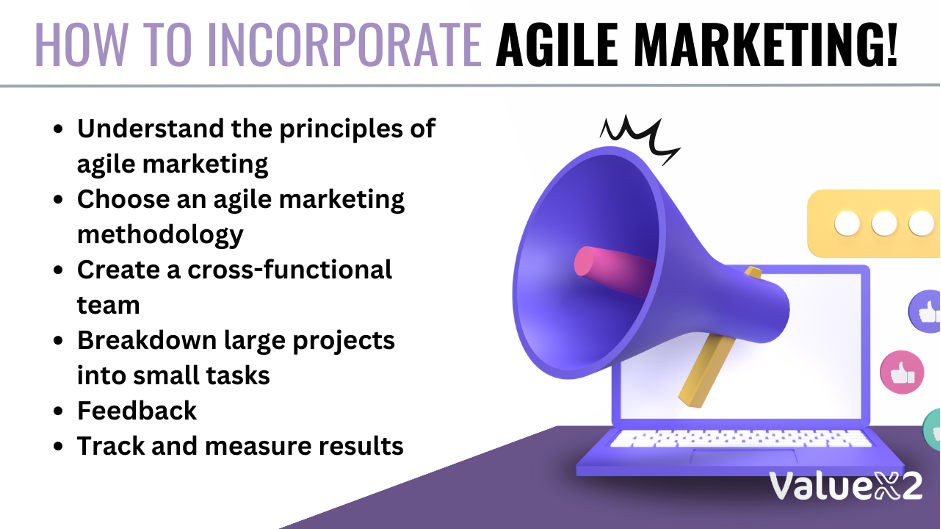 Businesses and organizations are trying to migrate from traditional methodologies to Agile methodologies to improve the marketing results. Below is how you can take this shift.
Understand the principles of agile marketing: Agile marketing is based on the principles of development and improvement; this means that projects are divided into sprints and customer feedback is collected in each stage.
Choose an agile marketing methodology: There are several agile methodologies businesses should choose from. They could be Scrum, Kanban, or Lean Startup. Each methodology has its strengths and weaknesses, so choose wisely.
Create a cross-functional team: Agile marketing is best when it is implemented in an organization providing a cross-functional team. This team has people from every department of the firm.
Break down large projects into small tasks: This makes work easier as each sprint is completed before moving towards the next step.
Feedback: Feedback is obtained from customers and stakeholders, which leads to improvement before the completion of the projects.
Track and measure results: This allows businesses to track and measure the results of marketing campaigns in real-time.
How can Agile Marketing be used to improve marketing campaigns?
Agile marketing is then used to improve the quality of the marketing campaigns. The content below indicates how:
1. Trying out various marketing messages
Agile marketing enables companies to try various marketing messages with various target markets. This can assist firms in identifying the messages that get the best outcomes. Agile marketing can be used by a non-profit organization to execute a fundraising campaign, testing various messaging and distribution methods to determine which ones are most successful in bringing in donations.
2. Landing page optimization
Depending on the target market, landing pages can be tailored using agile marketing. This can assist companies in improving their marketing initiatives' overall efficacy and conversion rates. A clothes store can test several marketing messages and creatives using agile marketing to evaluate which ones interact with their target market the most.
3. Results tracking and evaluation.
Agile marketing enables companies to monitor and evaluate the progress of their advertising initiatives in real-time. Therefore, using this knowledge, you can manage your business wisely maintaining a steady budget. Agile marketing can be used by a software company to roll out a new product or even a service. This is done in small stages (sprints) while collecting client feedback to ensure the project is meeting customer needs.
Final remarks
Are you trying to improve your organization's marketing results? The knowledge of Agile marketing can help your businesses and organizations improve their marketing agility. For sure, Agile marketing is a powerful methodology, you should have it in your arsenal. By following the values and principles of iterative development and continuous improvement, businesses will be capable of creating marketing campaigns that are adaptable to change, are data-driven and are more collaborative. Therefore, agile marketing is a great way to marketing results.