Reading Time:
4
minutes
Learn about the popular Scaling Agile Frameworks and know which one is good for you. Also know how to determine if your Agile team is ready for scaling.
In the current world, change is inevitable. As our surroundings are becoming increasingly complex, there is a continuous need to swiftly adapt and improve. In the current business and software development, the needs of our customers are constantly changing.
It could be that you are experiencing an increased demand for your product and need help in figuring out what should be done. In the past months or years, your small Agile team could deliver quality and quantity and meet deadlines, but now it is impossible to do so. It is the right time to Scale up your team. It would be best if you cooperated with agility in your team and throughout the organization. It would be best if you got more teams up to date with the Agile framework.
Are your Agile teams ready for Scaling?
It must be one of the most critical parts of solving the puzzle. If you get it right, it might lead to success. Understanding your team's maturity level in Agile is necessary. It will minimize the risk related to adopting a Scaled Agile Frame Works.
Have a look at the five main principles of the Agile in Scale:
The team has to learn to be independent when it comes to making minor decisions. This allows the ability to generate new ideas without fear and share them with the rest of the group. They must adapt to working without continuous supervision
Continuous Positive change
As we said earlier on, 'change is inevitable.' In this case, the teams must continuously learn to change and adapt to their environment. The worst enemy of progress can be stagnation.
View yourself as the product owner for a second. You want to deliver high-quality product quickly to your customer. The product budget should be crucial here. The team must get the right value needed to build such a product as a reasonable budget makes it easier to take good decisions.
Johan Karlsson says "Pull, Don't Push, Work." in his article 7 Principles of Good Agile at Scale. There is a need to engage balance regarding the investors, sales, the market, demand, skill time capacity, and cost. Balance is of utmost importance.
Motivation is one way to unlock potential. Motivation leads to focus, leading to a common goal among the teams.
If your team is motivated and ready to scale up, you will reduce resistance. It will reduce the dependency on leaders due to decentralized thinking. It would be best if you considered taking a course on Agile Scaling, which will spearhead you toward success.
Choosing the suitable Scaling Framework
There is a variety to choose from regarding Agile Scaling Frameworks. We will take a look at the most popular and widely recommended Frameworks: Scaled Agile Framework (SAFe), Disciplined Agile (DA), Nexus, Large-Scale Scrum (LeSS), and Scrum@Scale (SAS)
1. Scaled Agile Framework (SAFe)
SAFe became one of the most used frameworks, as a recent study shows that 37% of professionals use it. This framework is popular due to its clearly defined guides and procedures, which aim at the value streams. It combines the three Agile frameworks, Scrum, Lean, and Kanban, delivering astonishing results.
SAFe (Scaled Agile Framework) is associated with solving sizable and intricate challenges that necessitate large teams of 50 or more individuals. The resemblance to Scrum Frameworks makes SAFe relatively straightforward to implement and adopt.
2. Disciplined Agile (DA)
This method was first known as Disciplined Agile Delivery (DAD), which had a central focus on product delivery. The four DA levels guide it:
Foundation – Guidelines, Principles, and promises

Disciplined DevOps extends Standard DevOps – Integration of security and data management

Value Stream – Uniting your visions for a common goal

Disciplined Agile Enterprise – Developing an environment and culture that is ideal for work
3. Nexus
It is a framework that is next to nature to SAFe, considering that it is also based on the Scrum Framework. It is lighter than SAFe since it entails a few changes that will enable collaboration among three to nine teams. It is ideal for you if your team is:
Familiar with Scrum

Has limited finances

It requires only a lightweight framework

Ability to build simple solutions
4. Scrum@Scale (SaS)
Scrum @ Scale stands out as a highly approachable Scaled Agile Framework because of its close alignment with Scrum. This scaling framework extends the principles of Scrum and adopts a "Team of Teams" approach, where a larger management team serves as the spokesperson for the smaller units. Usually, representatives from the smaller groups are selected to participate in the Scrum of Scrums (SoS) meeting. This ensures effective communication and collaboration among the teams.
Advantages and Disadvantages of Scaling Agile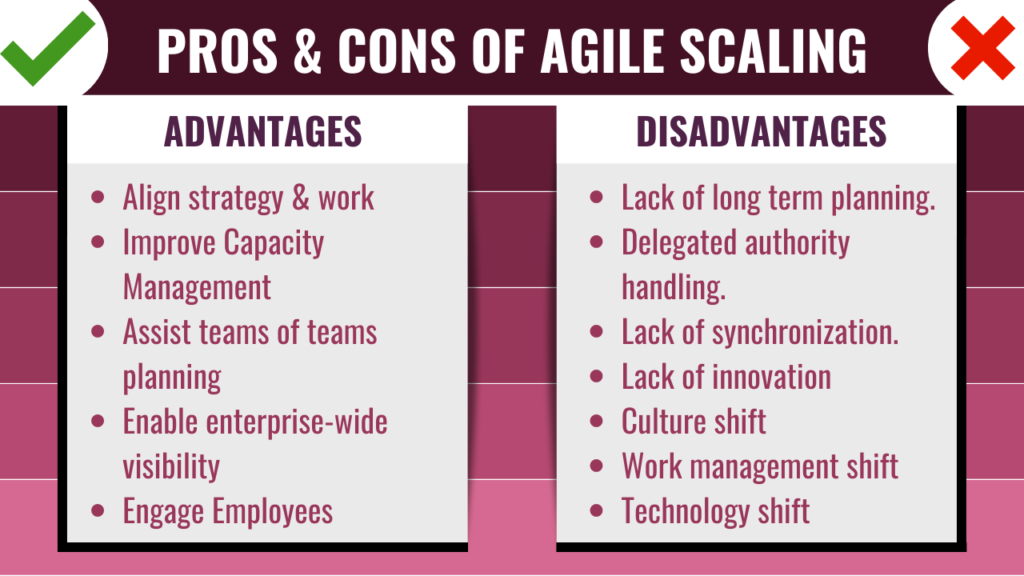 | Advantages | Disadvantages |
| --- | --- |
| Align strategy and work | Lack of long-term planning |
| Improve Capacity Management | Delegated authority handling |
| Assist teams of team planning | Lack of synchronization |
| Enable enterprise-wide visibility | Lack of innovation |
| Engage employees | Culture shift |
| | Work management shift |
| | Technology shift |
Go on and choose wisely!
Opting to scale up Agile will have a long-term impact on your organization. By making a wise decision, you will align your teams toward success. It might be the change you need in your company, therefore, don't hesitate.