Reading Time:
4
minutes
Join this best online HR upskilling course and scale up your career in Human Resources Management. This upcoming LIVE online Agility in HR training with certification is led by Sagar Jivani, an expert Agile HR trainer. With limited seats, this is one of the best Agility in HR training in Americas!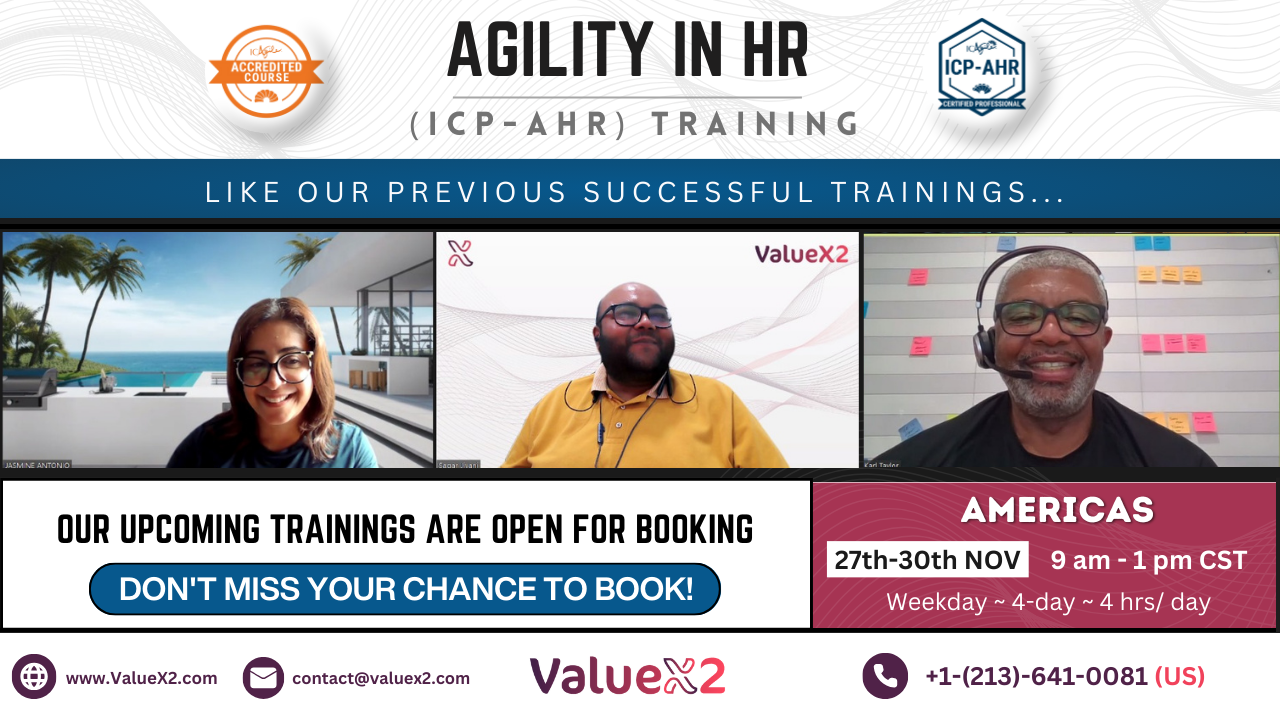 Shout out to HR professionals living in the American subcontinent!
Here's your big chance to upskill your career in human resources. Join our upcoming short-term online HR certification course and empower yourself or your HR team to drive innovation, adapt to change, and increase employee engagement for organizational success.
If you're an HR manager, HR professional, HR business partner, recruitment specialist, Performance Manager, Learning and Development Specialist, Agile Coach/Consultant, Organizational Change Agent, or business leader, sign up for this 4-day HR upskill course with certification. This HR training will be completely online to give you the convenience of learning at your comfort.
The training is called Agility in HR, accredited by ICAgile, and is led by Agile HR Trainer, Sagar Jivani.
ValueX2.com, an accredited platform for Scrum and Agility learning and certification, facilitates the Agility in HR course training. After this HR upskill training, you get certification from ICAgile. In addition, this online HR course enhances your agility skills and learnings and helps you to be more agile, efficient, and output-oriented. This best Agility in HR training in Americas helps HR professionals to make innovative strategies to boost efficiency, engage with employees better, and adapt to changing organizational needs. This specialized training empowers HR experts to lead with agility, fostering career growth and elevating their contributions to organizational success.
Reserve your seat here for Agility in HR certification and take your HR career to a whole new level!
Course Details:
Dates: November 27th, 28th, 29th, and 30th
Time: 9:00 AM to 1:00 PM CST
Course Fee: $699 USD
Instructor: Sagar Jivani
Certification: Earn the ICP-AHR Certification
What You'll Learn in the ICP-AHR Certification Course?
How Lean-Agile Principles can be applied in:
Organizational structure to support customer-centricity
Inviting, hiring, and onboarding the right talent
Performance management to complement the agile structure
Fostering a continuous learning journey
Establishing a culture and mindset to encourage innovation
What's Inside the Course?
Interactive 4-day live sessions hosted by Agile HR trainer Sagar Jivani
Comprehensive resources and course materials
Real-world case studies, interactive workshops, practical exercises, and industry insights
Networking opportunities with like-minded peers
ICAgile certification after the course assignments are done
Who Should Enroll?
The Agility in HR course is designed for anyone who is looking for an agile HR transformation. The following professionals can take the best advantage of this HR upskill program:
Chief Human Resources Officers (CHROs)
HR and L&D – Presidents, Vice Presidents, Leaders, and Directors
HR Managers and Consultants in – Talent Management, Recruitment, OD, Compensation & Benefits, and Staffing
L&D Managers, L&D Experts, and L&D Consultants
HR Transformation Managers, Consultants, and Internal Change Agents
HR Business Partners, HR Champions, HR Experts, HR Generalists, HR Consultants, and HR Specialists
Agile HR Professionals, Agile HR Leads, Agile HR Coaches, Agile HR Consultants, and Agile HR Experts
HR System Developers, HR Architects, HR Data Scientists, and HR Data Analysts
HR Product Owners, HR Product Managers, HR Scrum Masters, HR Chapter Leaders, and HR Development Team
Agile Professionals, Agile Coaches, Agile Leads, Agile Consultants, and Agile Experts
Hiring Managers, Business Leaders and Managers, Transformation Leads, and Line Managers
Why Should You Choose Our Training?
Experienced Agile HR Trainer: Sagar Jivani brings his experience, a deep understanding of Agile methodologies, and a track record of successful HR transformations.
Practical Application: The training focuses on real-world application, thus equipping HR professionals with the skills to drive tangible results in their organizations.
Custom-Tailored Learning: The training is tailored to HR challenges, ensuring attendees gain insights directly applicable to their workplace and roles.
Comprehensive Curriculum: Our syllabus covers the entire Agile HR spectrum, from recruitment and performance management to employee engagement and culture development.
Engaging Workshops: Interactive workshops, group discussions, and case studies create a dynamic learning environment that promotes active participation and knowledge sharing.
Continuous Support: Attendees gain access to post-training resources, including materials and updates, empowering them to continue their Agile HR journey more effectively.
Networking Opportunities: The Agility in HR training allows you to connect with a community of like-minded HR professionals, helping you to develop valuable connections and foster the exchange of best practices.
Industry Recognition: ValueX2.com is ICAgile accredited and provides high-quality Agile training. Your Agile HR certification is recognized and respected within the industry since it has ICAgile accreditation.
ROI-Focused: The 4-day, 4-hour/day ICP-AHR training is designed to deliver measurable returns on investment and ensures that HR teams are able to increase efficiency and contribute to organizational success.
Future-Ready: With the rapidly evolving workplace culture, Agility in HR is not just a trend but a necessity. This ICP-AHR training equips professionals to prosper in the changing landscape.
About the Agile HR Trainer: Sagar Jivani
With over a decade of experience in HR functions at small and large multinational corporations, Sagar Jivani is an HR Agile Coach and Business Agility Consultant. He has been running an HR consulting firm successfully for the last few years and has leveraged agile methods to increase business efficiency.
Sagar is an authorized instructor for ICAgile Agility in HR (ICP-AHR) and Business Agility Foundations (ICP –BAF) training courses. He has considerable experience in coaching and training on applying agile practices for his clients, primarily HR departments. Sagar also provides consulting pertaining to HR for Agile and Agile for HR transformation to corporates.
If you are ready to upskill as an HR and thrive with the Agile HR certification, reserve your spot for this upcoming best Agility in HR training in Americas.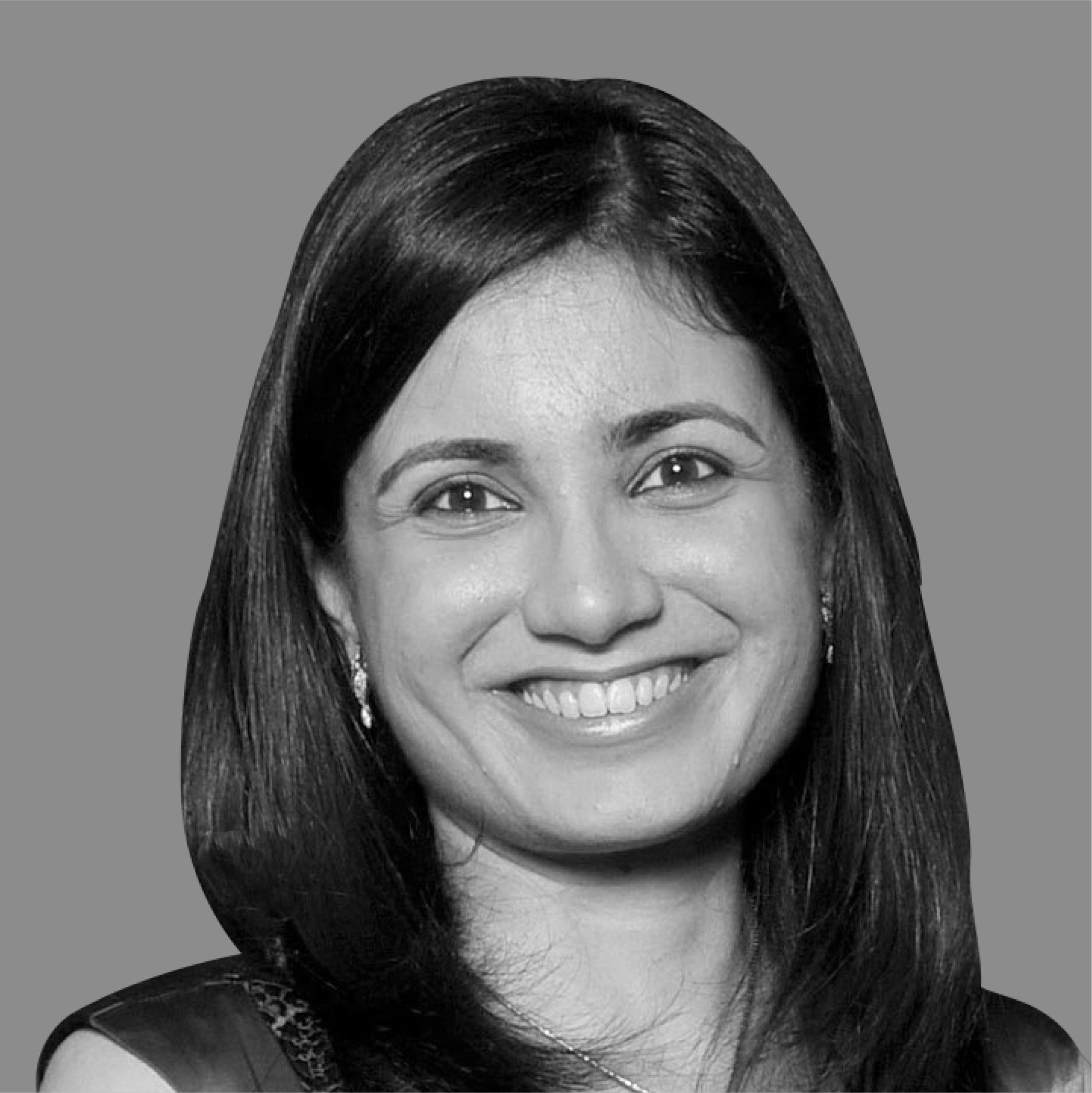 Bhavna is an Agile Coach and Consultant with over a decade of experience in advisory, corporate finance, IT assurance, and operations at Big 4 and within the industry in the UK and India. She has recently been the CEO of a start-up where she implemented agile practices within HR, Marketing, and Product teams.
She is also a SAFe® Practice Consultant (SPC) and authorized instructor for ICAgile Agility in HR (ICP-AHR), Agility in Marketing (ICP-MKG), and Business Agility Foundations (ICP – BAF) training courses. She provides training for agile transformation to corporate, public, and private batches, as well as consulting for enterprise agile transformation.